Academic Upgrading
There is still space available in our Personal Tools for Success and Self Management Self Direction courses starting the week of March 19, 2018 at the following locations:
Personal Tools for Success: Cambridge and Stratford
Self Management Self Direction: Guelph and Waterloo
For more information please contact us using the Get Started form.
Academic Upgrading is a tuition-free program (for those meeting admission requirements) that prepares you for further college learning, apprenticeship or employment.
Academic Upgrading is available to individuals:
who don't have a secondary school diploma
whose high school grades are too low for college or apprenticeship programs
who completed secondary school some time ago and need to refresh their skills
who need to prepare to write the GED test
Program Highlights
Learn in an adult atmosphere
Flexible schedule lets you learn at your own pace and around your busy life
Study during the day, evening or online through Distance Learning
Free - costs are 100 per cent funded by the Ministry of Advanced Education and Development - Employment Ontario for eligible students
Subsidies may be available to eligible students for transportation and childcare
Admission Requirements
19 years of age or older
Resident of Ontario
Provided documentation of completed Canadian Benchmark Level (CLB) 7 or higher if English is not your first language
Completed assessment prior to starting courses
Programs
Take individual courses as needed for Academic Upgrading or pursue your Career and Academic Entrance (ACE) certificate. To receive the ACE certificate you are required to complete four courses: Communications (English), one math course and two other ACE elective courses.
Academic Upgrading Course Availability
Self-directed study: work at your own pace, receive in-class instructor support and start at any time.
Teacher-led study: start and end at set dates, be taught by an instructor and attend all classes.

Math
English
Biology
Chemistry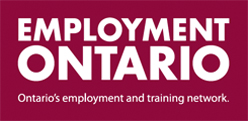 This Employment Ontario project is funded in part by the Government of Canada and the Government of Ontario.